Ensure Optimal Orthodontic
Health for Your Child
At Brodsky Orthodontics, we recognize that each child's orthodontic journey is unique. Sometimes, this journey begins a little earlier due to the need for preventive or interceptive measures that guide their oral development in the right direction.
This specialized approach is known as Two Phase Orthodontic Treatment. While not every child requires this, there are instances where certain orthodontic conditions call for a two-pronged strategy.
The essence of Two Phase Orthodontic Treatment at Brodsky Orthodontics is to diligently observe and correct your child's teeth alignment at two critical stages of their growth.
By proactively addressing significant issues, this two-phase treatment significantly reduces the likelihood of your child needing more complex, invasive treatment in the future.
This method not only ensures a smoother, more comfortable experience for your child but also paves the way for a healthier, more confident smile. If you think your child might benefit from Two Phase Orthodontic Treatment, we warmly invite you to get in touch with us at Brodsky Orthodontics. Our compassionate team, under the expert guidance of Dr. Brodsky, is committed to walking with you and your child every step of the way on this transformative journey.
Phase 1-Correcting the Major Problem
We understand that early intervention can make a significant difference in your child's oral health. That's why we offer a specialized approach known as Two Phase Orthodontic Treatment. The first phase typically begins between the ages of 7 and 10. This phase is crucial as it focuses on ensuring that your child's jaws develop correctly to accommodate their adult teeth.
During this phase, we address a variety of issues, including:
Excessive crowding or spacing
Thumb or finger habits leading to an open bite
Crossbites causing the lower jaw to grow asymmetrically
Any bite causing gum tissue damage, enamel wear, or abnormal airflow
Underbite or growth abnormalities
Abnormal eruption of teeth
Our experienced orthodontists provide Phase One treatments designed to address these issues and promote proper jaw development in your child. The ultimate goal of this phase is to prevent future problems that might require surgical intervention, such as the extraction of adult teeth or jaw surgery. After the completion of Phase One, your child will enter a rest period. During this time, we will monitor the eruption of the remaining adult teeth. This comprehensive approach ensures your child's oral health is taken care of from the beginning, setting them up for a lifetime of beautiful smiles.
Phase 2-Teeth Positioning
Once the rest of your child's adult teeth have fully emerged, our dedicated team, led by Dr. Brodsky, will craft a personalized treatment strategy to align the teeth perfectly. This plan often includes the use of braces or Invisalign aligners, which will gradually adjust and straighten the teeth over an estimated period of two years.
By the conclusion of the second phase, your child's teeth will be impeccably aligned, resulting in an optimal bite and a stunning smile that radiates confidence.
Throughout the comprehensive journey of Phase One and Phase Two Orthodontic Treatment, Dr. Brodsky and his team are committed to achieving the objectives of rectifying habits, realigning misaligned jaws, and straightening teeth.
Should you have any additional inquiries regarding our Two Phase Orthodontic Treatment, please don't hesitate to reach out to our office. We're here to assist you every step of the way.
We Treated This Patient
With Two Orthodontic Phases
Patient Before Phase 1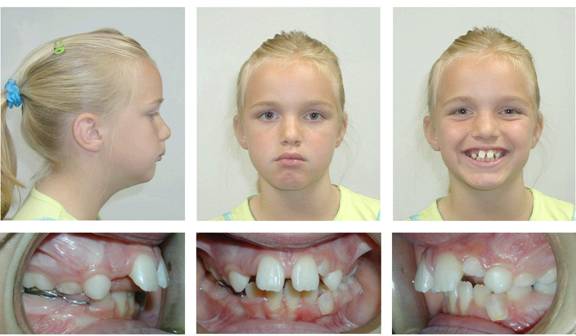 Patient After Phase 1
Patient After Phase 2