Summer may be flying by, but there's still plenty of time to check out some of the amazing activities our area has to offer before the school year starts back. At this point, you're probably getting tired of the same old pools and splash pads, and looking for a little more variety. That's where we come in! Brodsky Orthodontics has put together a few of our favorite things to do in or around Long Beach in the summer, and they're the perfect way to get the kids off their electronic devices and out of the house for some family fun. Check our picks out below, and let us know if we missed anything on your must-do list for the summer months! 
100 Aquarium Way
Long Beach, CA 90802
The Aquarium of the Pacific in Long Beach is home to more than 11 thousand animals in over 50 exhibits, making it a multi-sensory experience that's educational for all ages, too! Located in Long Beach's Rainbow Harbor, it's in just the right location for a day trip to learn about sea life close to the ocean in a family-friendly facility. Visitors can touch the sea jellies, feed the colorful lorikeets, watch the penguins play, and even see scuba divers feeding and interacting with the sea life in the aquarium. Arrive early and visit the outdoor exhibits first to beat the heat and the crowds, and don't forget to take a family selfie in the beautiful lobby!
1126 Queens Hwy.
Long Beach, CA 90802
The Queen Mary is a luxury ocean liner built during the Great Depression that hosted  celebrities of the day, such as Clark Gable and British royalty. At the start of WWII, she was transformed into a troopship called the Grey Ghost, but returned to serving passengers once her service in the war was done. The Queen Mary docked for the last time in 1967 in Long Beach, where today she is visited by many families each year! It's free to board and explore the ship, which includes museums, shops, and restaurants. You can also stay aboard the ship in one of the family staterooms that contains two bedroom areas if you really want to make it a trip to remember! The restaurants are all amazing, and the Observation Bar is surprisingly kid-friendly so the whole family can get their groove on. 
8039 Beach Blvd.
Buena Park, CA 90620
Keep things cool this summer at Orange County's largest water park! After a recent 2-acre expansion, Soak City has more to offer than ever before, including two new water slides, more shaded seating areas, and spacious cabanas. Navigate thrilling twists and turns on The Wedge, a family raft ride that seats up to 6 people, or soak up the sun in one of the world's longest lazy rivers. For younger kids, Gremmie Lagoon provides a water wonderland that's just the right size, or they can explore the three-story interactive Beach House! When you work up an appetite, be sure to check out the delicious dining options available, like Longboard's Grill and Portside Pizza. 
Catalina Island is a family favorite for a reason! Besides the beautiful scenery, there are plenty of activities to keep even the pickiest kids happily occupied. Thanks to the convenient location, safe environment, and mild weather make it the perfect destination for families of all sizes and ages. Take an eco-tour to view the native bison, choose from multiple beaches, soar across the island on a zipline tour, or get up and close and personal with the marine life by embarking on a glass-bottom boat tour. There's also plenty of other island adventures to partake in, including parasailing, fishing, and snorkeling.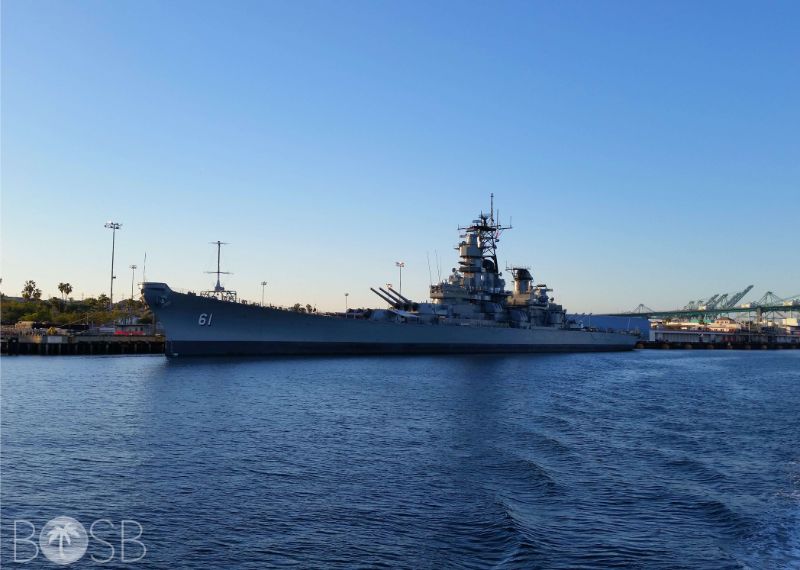 250 S Harbor Blvd.
Los Angeles, CA 90731
The USS Iowa served in both WWII and the Korean War. It moved to its permanent home in the Los Angeles Harbor in San Pedro in 2012. Today, visitors can explore several decks and rooms in the battleship, as well as a museum. Take a self-guided tour with your family using the various signs and monitors that explain what you're seeing as you go, and learn all about the ship and its' fascinating history! There are plenty of things for kids to do and see on the ship, including a scavenger hunt centered around the ship's mascot, a dog called Vicky. There are a lot of steps on the ship, so if mobility is an issue, you might want to give this one a pass. Otherwise, it's an interesting look at an impressive history. Get your family more involved by downloading the mobile app, which offers a more interactive and immersive tour experience!
Remember to keep your child's smile on track this summer
Whatever fun-filled adventures you have in mind for your family this summer, remember to keep their treatment plan on track. That means ensuring that their braces or aligners are cared for so that treatment isn't interrupted, even if your regular routine is! The following tips and recommendations can help keep things looking and feeling good throughout the summer.
Have your child keep an orthodontic kit with them for braces care on the go, and include a toothbrush, toothpaste, floss, and a little orthodontic wax

Put our phone numbers and email address in your phone or write it down somewhere, so we can walk you through any unexpected emergencies that may occur while you're out and about

If your child is in braces, be sure they stick to treats that are orthodontist-approved, and avoid offering anything that's too crunchy or chewy

Encourage good dental hygiene by having your child brush at least twice a day for two minutes each time and floss every night before bed
If you have any questions or concerns, remember that we're always available for expert support and advice. The Brodsky Orthodontics team is here to help your child achieve a beautiful, healthy smile this summer – and all year long, too!